FORTHCOMING EVENTS
The Churchfitters in Concert
Saturday 12 March 2022 – 8pm
Chebsey Parish Hall again welcomes back Live and Local and this time brings one of its all time favourites back to the Hall, so get ready to party – Anglo French style !!!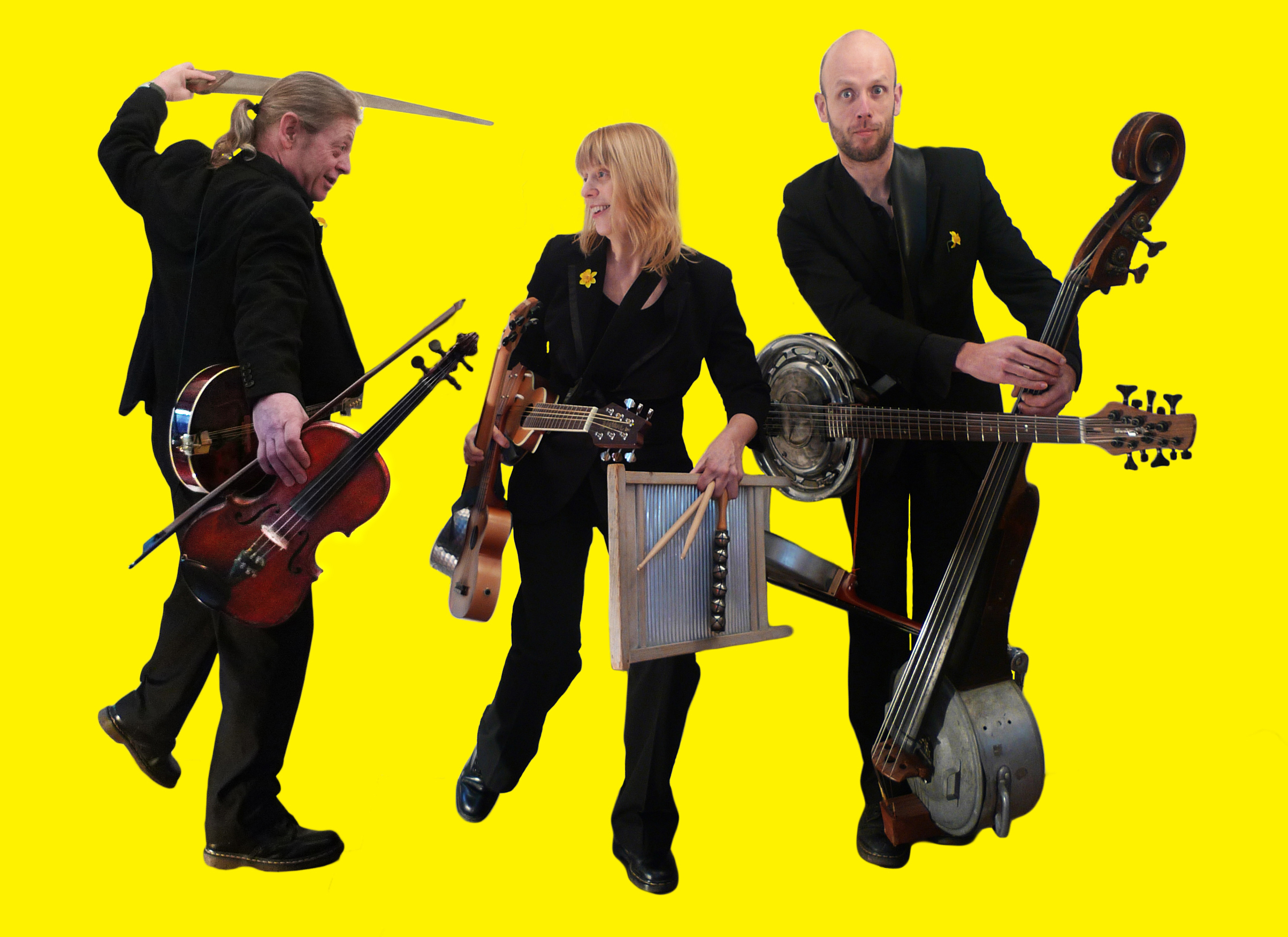 Why "Churchfitters"? Nobody knows! They're not fitters and have absolutely nothing to do with churches. The name's origin is lost in the mists of time but there is one aspect that suits them perfectly - its quirkiness.
The Churchfitters is a band like no other. A double bass made out of a saucepan, heart-wrenching vocals accompanied by a musical saw or a glass harp, foot-stompingly fast fiddle mixed with infectious funk-rock rhythms and traditional tunes reinvigorated with mesmerising jazz sax.
The three virtuoso musicians from England and France strut their stuff on a stage that bristles with instruments - adding flute, banjo, dulcimer, tin whistle, guitar, ukulele, electric hub-cap bass-bouzouki and a sackful of percussion to their ensemble. And let's not forget the unique 'bing-bong' machine made out of hack-saw blades.
Throw in some exquisite harmonies, a slew of startlingly original songs and a few jokes that create instant rapport and you've got a high energy show that always leaves audiences cheering.
Rosie Short's achingly beautiful voice is equally at home singing husky blues, plaintive femme folk or ethereal originals. A talented songwriter, she's also a 'one woman orchestra', deftly swapping between flute, saxophone, banjo, tin whistle, dulcimer, ukulele and any number of things you can shake, rattle, or whack with a stick.
Rosie's brother Chris is a feverishly fast fiddler who has the annoying habit of getting people, who were sitting quite comfortably, out of their seats and dancing. When required, he also plays slowly and most of the other speeds. A mean mandolin player, he sings great vocal harmonies too. Finally, he's a raconteur with a great sense of humour – but then you need that if you play the musical saw.
Part bass player, part mad inventor, Boris Lebret from Lannion (France) hates to play a regular instrument when he can cobble together a better one out of scrap metal. Like when he discovered four strings weren't enough for his driving bass rhythms, so he simply reached for the Black & Decker and bolted on another two.
How do you adequately describe such a musically diverse, uplifting band? You leave it to
Mike Harding, a self-confessed 'huge, huge fan'. He calls their music 'totally brilliant and beautiful'.
'Like Annie Lennox in full flow' (Fab Nights Productions) - Londoner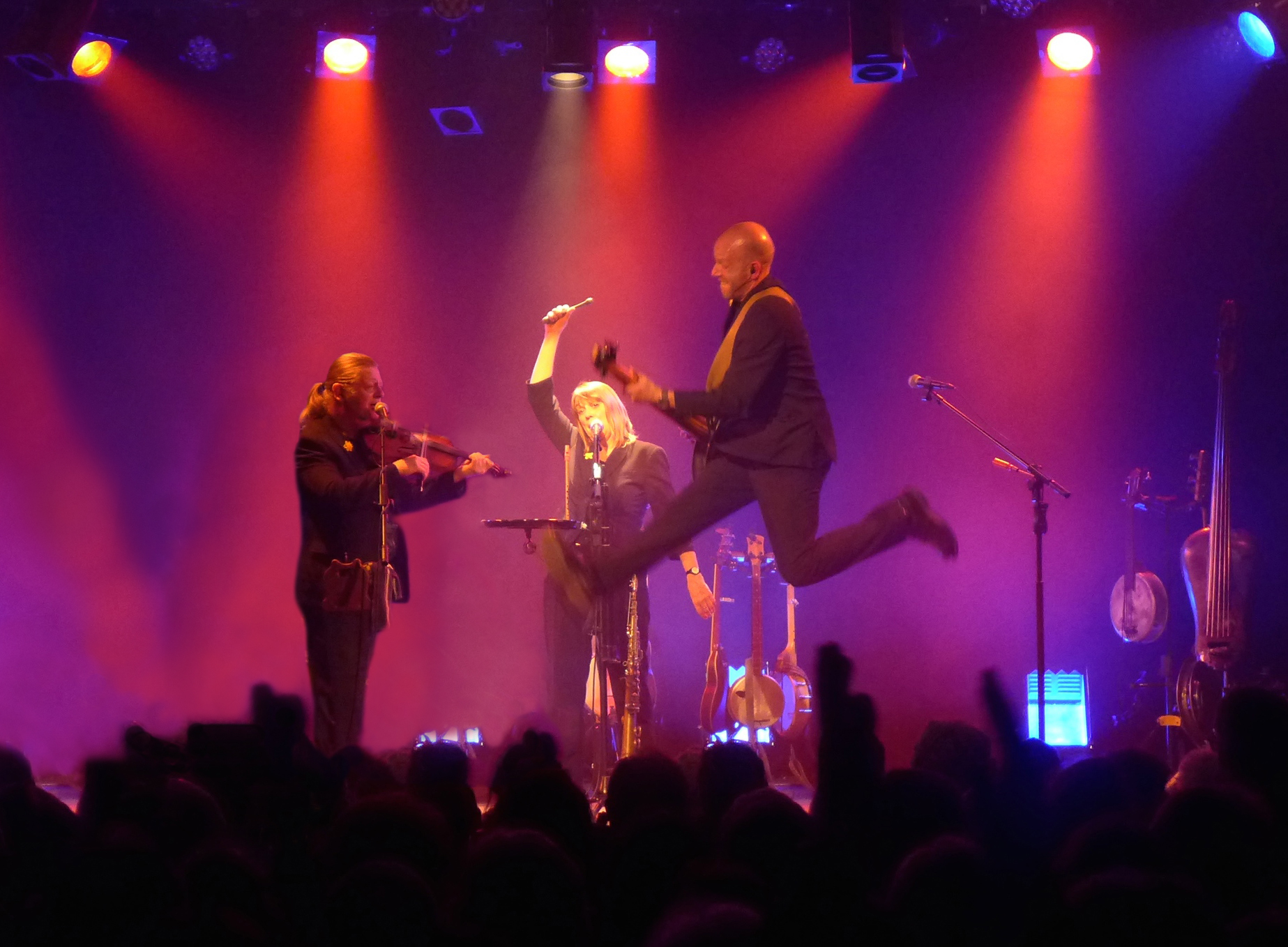 Doors open at 7pm and the bar at 7.30pm.
Tickets are available at £14.00 each, either from Derek Morris on 07776 295010 (or chebsey.morris@btinternet.com): or Rod Goldthorpe on 01785 761201 (or rodgoldthorpe@ymail.com); or Becky Dobson on 01785 761896.
Tickets are also available online via TicketSource at
www.ticketsource.co.uk/chebsey-parish-hall-limited
AND, as always, there will be a bar and light refreshments will be provided.
Details of other events at the Hall will follow but in particular they include special celebrations to commemorate the Queen's Platinum Jubilee.
THE REVUE

2020-2021
For obvious reasons, unfortunately the Hall was closed throughout the 2020-2021 seasons.
RSVP IN CONCERT- Friday 22 November 2019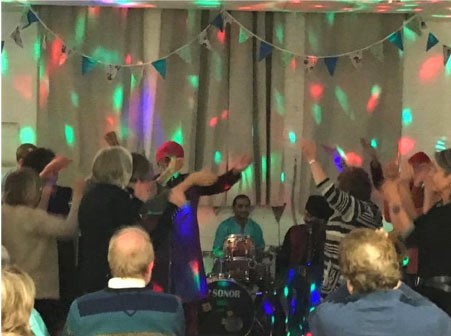 "An absolute belter of a night – absolutely awesome !!!!"
"an absolute treat"
"An awesome night and the very best Live and Local event we have ever had by an absolute mile!"
"Everyone, and I mean EVERYONE, said how much they enjoyed themselves including RSVP"
"Really smashing fellers all of them and very skilled at getting people to get up and join in the fun. They even got me on the dance floor which is an absolute rarity!"
"I thought the evening was a huge success, the culture barrier was defiantly crossed in Chebsey last night and it was good to see"
"I think everyone enjoyed the different type of music and culture....R [a member of the Hall Committee] was well away, so the drumming had really found a rhythm"
"Band very sociable and interactive thanking all of us for the support etc and making it fun for everyone"
It was an excellent evening, the band rose to the challenge to get Chebsey up and dancing.....even H[a respectable and well respected member of the audience] !!
"The whole event had a great community feel, which is what it's all about…."
"A great Team event"
"A must if we can ever get them back again!"
"I have to say I'm still buzzing and it's nearly two hours since they did their last gig !!"

COFFEE MORNINGS/AFTERNOON TEAS
In addition to the usual uses that are made of the Hall, occasional Coffee Mornings/Afternoon Teas are held on Saturday afternoons.

One of the main afternoons already booked for this year will be the ever popular Christmas Afternoon Tea on Saturday 22nd December 2022 when Santa will also be present for the kids (and the grown-ups!).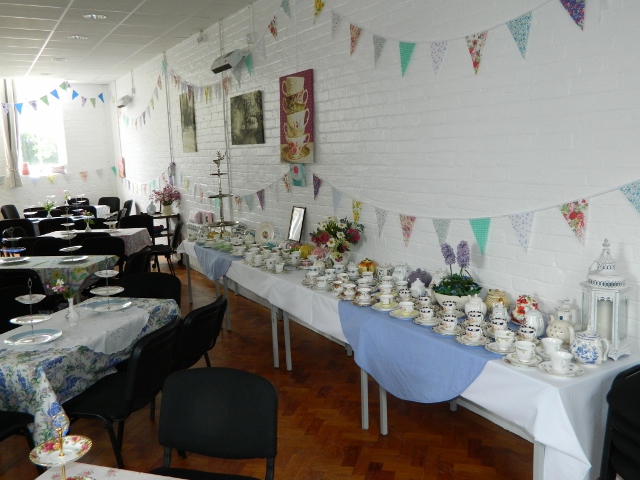 WEDDINGS

For example, in 2016 we were pleased to make our facilities available for a private wedding reception on behalf of a couple from Eccleshall. Taking place in a marquee erected in our field as well as using all the other facilities of the Hall, the whole day was a great success and will we hope lead to further such events in the future.