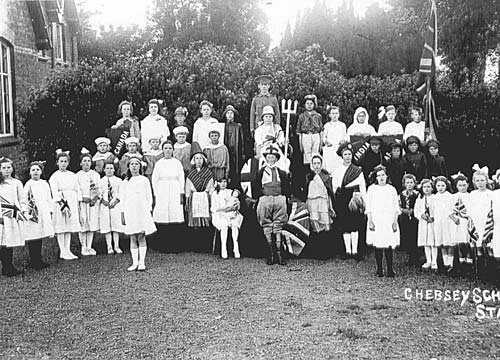 Chebsey Parish Hall began life as the local school for the whole parish in 1893 (having taken over from a much smaller school built in the early 1800s).
The picture above was taken during World War 1 and shows the school children in the playground (now the car park) to the front of the school.
In the early 1980s however, the school was closed and subsequently became a community hall.
In 2000 the then Committee raised sufficient funds to acquire the site from Lichfield Diocese to secure its permanent future as a parish facility. The site itself was vested in Trustees but gradually over the years some of those Trustees moved away.
So, in mid-2012 it was considered that the appropriate time had come for the situation to be regularised by vesting the site, and all the other assets of the hall, in a company then-named Chebsey Village Hall Limited (company number 8121685, a newly formed company, limited by guarantee, specifically set up for that purpose).
Shortly afterwards, Chebsey Village Hall Limited applied to the Charity Commissioners to become a fully-fledged registered charity. This application was successful and so the Company acquired charitable status (charity number 115021).
In accordance with its objects the Hall is run for the benefit of the whole of the parish of Chebsey and with the support of that community generally. In recognition of this, the company's board decided in 2014 on a change of name to Chebsey Parish Hall Limited.
The Hall has always been and will continue to be run by elected local individuals on a purely voluntary basis and the Charity will continue to rely upon grants, fund raising events and the lettings of the Hall for the monies required to maintain and operate it .